What is it About?
Human cloning. The dream of modern science. Or a nightmare?
DAY OF THE CLONES is new British feature film set in Manchester, England. This ambitious sci-fi horror movie asks the question: what happens when human cloning gets out of hand?
This is the story of a government scientist who tries to defend a rag-tag bunch of survivors in a remote farmhouse after the clones he has created have taken over the world.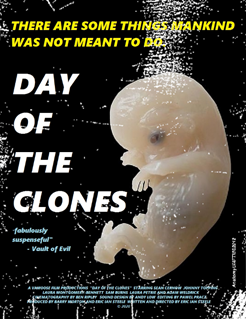 The film combines the claustrophobia of George A Romero's "Dawn of the Dead" with the intense paranoia of John Carpenter's "The Thing", set against a realistic backdrop of the industrial North of England. The film has action, stunts, special effects and military vehicles galore!
We will use the latest technology as well as old-school practical effects. We will also be using experienced TV actors, a professional crew made up of local talent, using Hollywood-grade equipment, and a script written by a Hollywood screenwriter.
And now you can be a part of the story!
Why Do You Need Funds?
We try to pay for as much of the film as we can. But we are a tiny outfit, and in order to pay for the actors we want, and to achieve the special effects and exciting stunts we want to film, we need extra funding. This funding will also help us pay for postproduction facilities like editing and sound mixing.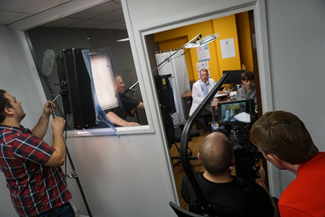 Who Are We?
Writer/director Eric Ian Steele is the award-winning screenwriter of the thriller feature film "The Student" (2017), directed by Steven R Monroe ("I Spit On Your Grave") and produced by The Cartel ("Creepshow") which is currently on Netflix in the USA. He also wrote the sci-fi action film "Clonehunter" (2012). He made his last feature film, the body horror vampire movie "Boy #5" (2020) on a shoestring budget.
Producer Barry Morton is a professional filmmaker and photographer with 20 years of experience.
You can read about our amazing adventures making our first feature film "Boy 5" here.
The talented cast includes Sean Cernow of TV's "Shameless", Steven Coogan's comedy feature "24 Hour Party People" and indie horror film "K-Shop", alongside regulars of TV's "Emmerdale", "Coronation Street" and "Peaky Blinders".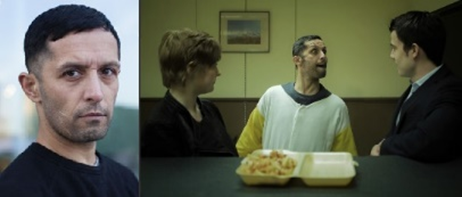 What's In It For You?
First of all, you get to see a feature film made, thanks to your support!
We also aim to make more feature films. So you will be helping to revitalize the British film industry and be supporting local indie filmmakers and actors!
And there's more good news… due to the current situation, we have just as good a chance as any major Hollywood film to be selected for a major film festival or to get picked up by a large distributor like Netflix!
Finally, you get to choose one the semi-awesome perks listed below!
We welcome your suggestions and comments. You can contact us on our Facebook page here:
And finally..!
Any donation, matter how small, is always greatly appreciated. Just £4 will help go toward making this film a reality, and we will keep you constantly updated about the progress so far!
And even if you are unable to donate anything, you can still help! Just share this campaign with your friends and family and on social media. Every little helps!
Thanks again for all your time! Enjoy the teaser!
Eric Steele.
Click on this link to go straight to the film's official site.