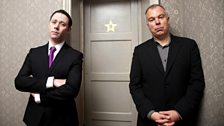 Inside No 9
, written Steve Pemberton and Reece Shearsmith, is shaping up to be the best horror series of short stories on British TV for years. We're three tales into the series now and each has proved to be totally different and in many ways even better than the last. This week's episode,
Tom and Gerri
, had perhaps a little less humour, but more than made up for it with growing chills, especially as twist followed twist towards the end. The acting was superb.An immediate classic.
The good news is that a follow up series has already been commissioned by the BBC.