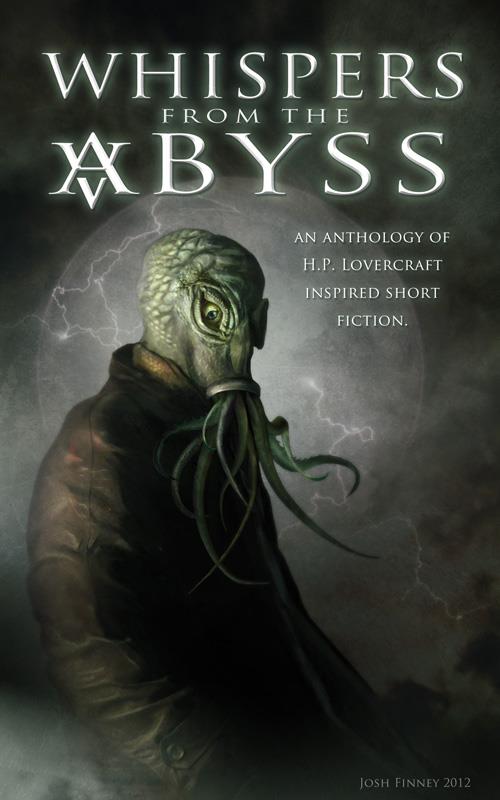 A collection of H. P. Lovecraft inspired short fiction
Edited by Kat Rocha
Cover by Josh Finney
ebook
Lovecraft has never been more popular, and there seem to be more books inspired by his tales out today than ever before. This anthology, edited by Kat Rocha, contains 33 stories by many writers unknown to me, but a few I am familiar with, like Nick Mamatas, Charles Black, and Aaron J. French.
My first fear was that with so many stories there would be a repetition of theme and style, but that was quickly dispelled. Though most are quite short, they are refreshingly wide ranging. If there is a frequent theme it may be the use of Lovecraft's Deep Ones, but even here the approach to this trope is broad. Jason Andrew's "Fear And Loathing In Innsmouth: Richard Nixon's Revenge" is perhaps the most original. Written as if by Hunter S. Thompson, it follows the Gonzo journalist during the presidential election towards Innsmouth and the source of Nixon's campaign money. Visiting the Arkham Asylum the narrator has this to say about one of the residents. "He had thick jowls, bulbous eyes, and a suspiciously Nixon-like jump nose. I made certain that he was always two steps ahead of me and always in my line of sight." A great story, totally in keeping with the character of its narrator.
Charles Black contributes two stories, one of which must be a contender for the shortest horror story ever written. Called "The Last Tweet" it is exactly what it says, a tweet. Incredibly Black manages to encapsulate an entire short story into 19 words, and even manages to use an old cliché of many bad Lovecraftian pastiches – which for once makes sense and works. About this I am saying no more. Read it for yourself. It won't take you long.
Nick Mamatas's "Hideous Interview With Brief Man" is a bizarre interrogation, whose true horror only materialises in the final few sentences.
"My Stalk" by Aaron J. French turns for inspiration towards Lovecraft's fantasy writings, though written in its own style, which is both fluid and almost hypnotic.
There are too many stories to highlight more than a few, but I failed to find any that was not well written and distinctively individual. If I had one complaint it could be the preponderance of first person narratives, but that may be because I have a preference for the third person singular. Not a serious defect, and one which most readers may not even notice, especially if they tend to dip in and out of anthologies.
The book has a gorgeous cover by Josh Finney, whose beauty I would love to see in print one day rather than almost lost on my Kindle in black and white.
A great, engrossing and varied anthology of Lovecraftian fiction, I would recommend it to anyone who likes this type of story.
TABLE OF CONTENTS
Introduction by
Alasdair Stuart
"Iden-Inshi" by
Greg Stolze
"Pushing Back" by J.C. Hemphill
"Nation of Disease: The Rise & Fall of a Canadian Legend" by Jonathan Sharp
"When We Change" by
Mason Ian Bundschuh
"Nutmeat" by Martin Hill Ortiz
"The Last Tweet" by Charles Black
"Secrets In Storage" by Tim Pratt & Greg Van Eekhout
"The Well" by Tim Jeffreys
"The Neon Morgue" by Nathan Wunner
"The Deep" by
Corissa Baker
"Fear And Loathing In Innsmouth: Richard Nixon's Revenge" by
Jason Andrew
"My Friend Fishfinger By Daisy, Age 7″ by
David Tallerman
"Chasing Sunset" by
A.C. Wise
"The Thing With Onyx Eyes" by Stephen Brown
"I Do The Work Of The Bone Queen" by
John R. Fultz
"Suck It Up, Get It Done" by
Brandon Barrows
"The Substance In The Sound" by W.B. Stickel
"Stone City, Old As Immeasurable Time" by Kelda Crich
"Hideous Interview With Brief Man" by Nick Mamatas
"The Sea, Like Glass Unbroken" by
Silvia Moreno-Garcia
"The Decorative Water Feature Of Nameless Dread" by James Brogden
"Henry" by
Lance Axt
"My Stalk" by Aaron J. French
"Give Me That Old Time Religion" by Lee Finney
"Afraid Of Dobermans" by Chad Fifer
"Leviathan" by Nicholas Almand
"Horrorscope" by Charles Black
"The Jar Of Aten-Hor" by Kat Rocha
"The Floor" by Jeff Provine
"Waiting" by Dennis Detwiller
"Other People's Houses" by Sarena Ulibarri
"You Will Never Be The Same" by Erica Satifka
"Death Wore Greasepaint" by
Josh Finney